Uberlândia Refrescos' logistics area starts project with electric vans
The company is well known for its sustainable initiatives and now together with Alsol Renewable Energy bets on 100% clean vehicles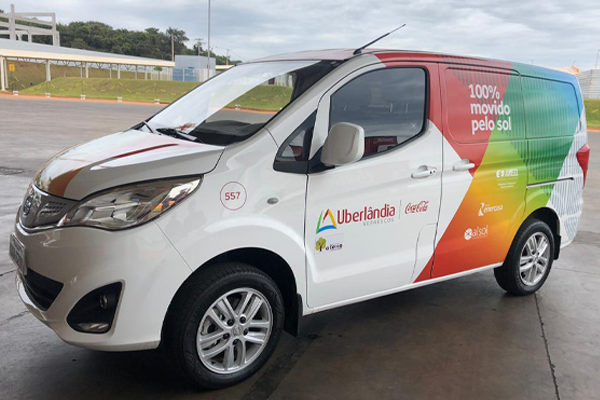 Uberlândia Refrescos, in partnership with Alsol Renewable Energy, has started a pioneer and innovative project with electric vans filled by solar energy. The vans are going to assist small market's demands in the company's logistics area. The project is still in its testing phase, it is set to last for six months and it is part of a program of research and development by the National Agency of Electrical Energy that stimulates the entry of electric mobility in Brazil.
According to Uberlândia Refrescos' logistics coordinator Leonardo Faria, the project goes towards the company's sustainable mindset – the logistics department already operates with electric pallet trucks – and "we were looking for a partner to enable the electric vans project. Alsol fills them with 100% clean solar energy from photovoltaic plates, which is good not only for the environment but also for our drivers, since they make a lot less noise.
Besides the sustainability, the electric vans are also very efficient when it comes to delivery speed and convenience. "They have three back doors, so no matter where or what conditions the driver has to park, it's going to be easy to unload the van", says Uberlândia Refrescos' distribution supervisor Gilberto Antônio.
All of the company's drivers that work with the van have had a specific training and identification with recognition by the van itself and monitored telemetry by Alsol. Adriano da Silva is one of Uberlândia Refrescos' drivers and he says that his driving work routine has become more confortable and fast with a lot of positive reactions and curiosity from the company's custumers. "The vehicle suits my needs as a driver and it's also a very interesting new. People want to know about its automy, the way it operates, to take photos, so it's a positive feedback for us", says Adriano.
The greatest challenge for the project is the lack of eletric fuelling stations in the cities and highways, so the company has to work with caution, measuring possibilities, but always thinking about giving the right example for the community. "This is our first project with electric vehicles and it's a turning point for us, we know that it is an ambitious and expensive project and it's going to take a lot of time and study for us to have a 100% sustainable vehicle fleet. But we're certain that we're looking at the future with this technology and soon enough it's going to be a fully established culture within the company and society", says Leonardo Faria.
It is also worth mentioning that Uberlândia Refrescos' Alexandre Biagi factory unit – where the logistics/distribution department is located – is a 100% sustainable building with water, energy and waste management, recognized with international LEED Platinum certifications by the United States Green Building Council (USGBC) in 2018.